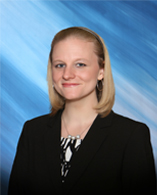 Position:
Associate
Direct Line:
(562) 216-4453
Assistant's Phone:
(562) 216-4473
Email:
Anna Barvir practices civil litigation with an emphasis on constitutional law and civil rights matters. Her expertise includes legislative analysis, firearms litigation, civil rights advocacy, and general civil litigation. She also assists clients with firearms-related regulatory compliance, including federal firearms licensing and California dangerous weapons permitting.
Ms. Barvir has worked on a number of high-profile cases in constitutional law and self-defense civil rights. Most recently, she assisted in litigating Peruta v. San Diego, a challenge to San Diego's strict "good cause" policy for obtaining a permit to carry a concealed firearm. On appeal, the Ninth Circuit recognized the right to bear arms for self-defense extends beyond the home and the county's policy violates the Second Amendment.
She was also an integral part of the Parker v. California litigation team that successfully overturned three controversial state laws regulating the sale of ammunition in California as unduly vague in violation of due process. Thanks in large part to Ms. Barvir's appellate advocacy, the trial court's decision was upheld by the Fifth District of the California Court of Appeal. The case is currently before the California Supreme Court.
Before joining Michel & Associates, Ms. Barvir clerked for the Honorable Judge William H. Monroe of the Superior Court of California, County of Orange. She also clerked for the Orange County District Attorney and the Los Angeles Gay & Lesbian Center's Legal Services Department, gaining proficiency in the areas of elder abuse, domestic violence, and bias-motivated crimes.
In 2009, Ms. Barvir graduated magna cum laude from Whittier Law School, earning her Juris Doctor and Certificate in Legal Writing. During law school, she served as Executive Editor of the Whittier Law Review and Treasurer of the Student Bar Association. Notably, her student-written article was selected for publication in the Whittier Law Review and, upon graduation, she was awarded the Whittier Law School Dean's Citation Award for outstanding leadership and service to the law school community.
More Information
Admissions and Memberships
Degrees and Certifications
Honors & Awards
Significant Cases
Publications and Productions
Teachings and Presentations