Admissions
Supreme Court of the State of California
United States Court of Appeals, Ninth Circuit
United States District Court: Northern District of California
United States District Court: Central District of California
United States District Court: Eastern District of California
United States District Court: Southern District of California
California Bar Association
Memberships
Los Angeles County Bar Association
Orange County Bar Association
National Rifle Association
California Rifle and Pistol Association
NORML Legal Committee
Degrees
Juris Doctorate, California Western School of Law
Bachelor of Arts, San Diego State University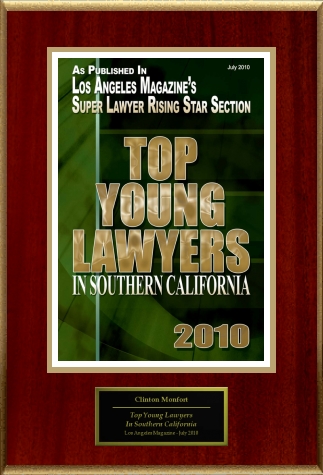 Honors and Awards
Rising star, Southern California Super Lawyers Magazine (2011)
Rising star, Southern California Super Lawyers Magazine (2010)
Oral Appellate Advocacy Competition, Finalist
California Western School of Law Deans Merit Scholarship, California Western School of Law
Significant Cases
Jackson v. City and County of San Francisco
Ongoing lawsuit challenging three San Francisco ordinances on Second Amendment grounds. This case alleges that city ordinances requiring that firearms be disabled by a trigger lock or stored in a locked container, banning the sale of certain ammunition, and prohibiting firearm discharges with no self-defense exception unconstitutionally infringe the right to keep and bear arms for self-defense. The case has already prompted the City to amend its discharge ban – a law that had been in place for some 75 years – to allow for discharges in lawful self-defense and all other circumstances allowed for under state and federal law. The NRA's attorneys at Michel & Associates, P.C. have successfully defended against each of the City's preliminary motions, and secured an important published "standing" ruling that clarifies the rights of future litigants in the Ninth Circuit to bring Second Amendment challenges to improper restrictions on the right to arms.
Sheriff Clay Parker v. State of California
Represented ammunition vendors and shippers, law enforcement, and individual consumers challenging controversial statewide legislation (AB 962) requiring law abiding individuals to provide private personal information and a thumbprint for every purchase of "handgun ammunition" and prohibiting mail order and internet purchases of "handgun ammunition." The Court ruled that AB 962 was unconstitutionally vague on its face and enjoined enforcement of the statutes it enacted. The case received significant media coverage:
AB 962 Web News, Examiner.com (January 29, 2011)
Formal Injunction Against Enforcement of California Ammunition Sales Ban Regulations Issued, Ammoland.com (January 24, 2011)
California handgun ammunition rules shot down, Orange County Register (January 20, 2011)
Judge Rules California Ban On Some Handgun Ammunition Unconstitutional, CBS – San Francisco (January 19, 2011)
California AB962 Found Unconstitutionally Vague, No Lawyers – Only Guns and Money (January 18, 2011)
Win in suit against California ammunition law, Of Arms & the Law (January 18, 2011)
нтиконституционный закон отменен, Путешествие длиною в жизнь (April 2011)
Peruta v. County of San Diego
Ongoing lawsuit challenging San Diego's strict "good cause" requirements for obtaining a permit to carry a concealed weapon (CCW). This case of first impression addresses whether the right to "bear" arms includes a right to carry a handgun in public. It also alleges favoritism by the San Diego Sheriff in issuing CCW permits on Equal Protection grounds. The case received significant media coverage:
Group Sues County and Sheriff over Concealed Weapon Permits, San Diego Union-Tribune (November 27, 2010)
More Evidence of Police Favoritism in Peruta v. San Diego Gun Case, Examiner.com (October 20, 2010)
Peruta v. San Diego Case Likely Delayed, Examiner.com (October 6, 2010)
Brady Center: Fed Court Must Uphold California Gun Law, OpposingViews.com (October 5, 2010)
Guy Montag Doe v. San Francisco Housing Authority
Challenge to San Francisco Housing Authority's ban on the possession of firearms by public housing residents. The stategic litigation was filed to secure a ruling that the Second Amendment limited state and local governmental infringement on the right to keep and bear arms. Rather than litigate, San Francisco repealed the gun-banning policies. The case has since been used as precedent in fighting bans on lawful gun possession in public housing across the country. The case received significant media coverage:
NRA Eyes More Targets After D.C. Gun Ban Win, National Public Radio (June 29, 2008)
NRA Sues to Overturn San Francisco's Handgun Ban, Fox News (June 27, 2008)
NRA Sues S.F. Over Guns In Public Housing, SFGate.com (June 28, 2008)
San Francisco Housing Authority Settles Gun Lawsuit, SFGate.com (January 14, 2009)
Nordyke v. County of Alameda
Challenges a gun show ban in Alameda County. Provided logisitcal and research support and represented amici the NRA and CRPA filing multiple amicus briefs since the case was filed.
Teachings and Presentations
California Medical Marijuana Law
Other Side Farms Information Center, Legal Panelist; (2010).
First Annual Southern California Intellectual Property Conference
Organizer and Committee Member.
Fred Hall Seminar
Second Amendment Rights and Litigation Updates, Long Beach, CA
(March 7-10 2013)
Media Coverage
Clint Monfort guest on Cam & Company
Parker v. California
AB 962 Web News Examiner.com (January 29, 2011)
Formal Injunction Against Enforcement of California Ammunition Sales Ban Regulations Issued Ammoland.com (January 24, 2011)
California handgun ammunition rules shot down Orange County Register (January 20, 2011)
Judge Rules California Ban On Some Handgun Ammunition Unconstitutional CBS – San Francisco (January 19, 2011)
California AB962 Found Unconstitutionally Vague No Lawyers – Only Guns and Money (January 18, 2011)
Win in suit against California ammunition law Of Arms & the Law (January 18, 2011)

Peruta v. San Diego
More Evidence of Police Favoritism in Peruta v. San Diego Gun Case, Examiner.com (October 20, 2010)
Peruta v. San Diego Case Likely Delayed, Examiner.com (October 6, 2010)
Brady Center: Fed Court Must Uphold California Gun Law, OpposingViews.com (October 5, 2010)
Santa Clara Ordinance
Santa Clara, Calif. Gun Ban Ordinance Defeated, OpposingViews.com (September 22, 2010)
California Gun Ban Ordinance Beaten Back, Semiautomaticheart.com (September 22, 2010)
Guy Montag Doe v. San Francisco Housing Authority
San Francisco Housing Authority Settles Gun Lawsuit, SFGate.com (January 14, 2009)