Admissions
United States of Court of Appeals, Ninth Circuit (2011)
United States District Court, Northern District of California (2007)
United States District Court, Central District of California (2005)
United States District Court, Southern District of California (2007)
United States District Court, Eastern District of California (2014)
California Bar Association (2005)
Memberships
Environmental Section of California Bar
Los Angeles County Bar Association
Degrees
Juris Doctorate, Loyola Law School, 2005.
Bachelor of Art, University of the Pacific, 2000.
Honors and Awards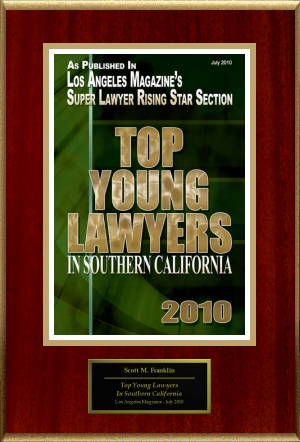 Rising Star, Southern California Super Lawyers, 2011.
Rising Star, Southern California Super Lawyers, 2010.
Rising Star, Southern California Super Lawyers, 2009.
Transfer Scholarship, University of the Pacific, 1998.
Publications
What is so B-A-D About D.A.B.? How High Definition Radio Affects the Producers of Sound Recordings, 25 Loy. L.A. Ent. L. Rev. 203 (2005).
Significant Cases
CalMat Co. v. San Gabriel Valley Gun Club
Obtained complete dismissal of CERCLA action brought in federal court by a division of Vulcan Materials Company, one of the largest mining companies in the country. Vulcan's action complained that the San Gabriel Valley Gun Club had left spent bullets on property the Club leased from Vulcan, or a predecessor, from 1947 to 2006, even though the relevant lease documents clearly indicated the Club was leasing property to be used as a shooting range. The evidence produced showed that Vulcan's lawsuit was premature at best, and a motion for summary judgment was granted on that basis (2011 WL 3665327).
CBD v. Bureau of Land Management, et al.
Successfully intervened on behalf of hunters' rights group in this lawsuit brought by environmental groups against the BLM to prohibit the use of lead ammunition for hunting in the Arizona Strip, a classic hunting area. Resulted in a favorable published decision on intervention standards (266 F.R.D. 369 (2010)).
Trump National Golf Club v. City of Rancho Palos Verdes
Represented the golf club in a dispute with the City over the installation and display of a large United States flag on its property. Successfully argued that denial of the club's Conditional Use Permit request was preempted by Government Code section 434.5, which provides that a government agency may not regulate the display of a United States flag based on aesthetic considerations. Faced with these claims, the City compromised. The flag continues to fly over the property and has become a landmark. The case received significant media attention:
Trump Gets OK for Illegal Flagpole The Washington Post (September 21, 2006)
Trump Gets Approval for Illegal SoCal Gold Course Flagpole The Associated Press (September 21, 2006)
Stern Agency Meets Unflappable Mogul Los Angeles Times (February 7, 2008)
Hinds v. Gregory
Settled potential multi-million dollar dry cleaning contamination lawsuit on behalf of current operators of dry cleaning business. Aggressively defended clients and uncovered evidence suggesting that contamination near dry cleaner was actually caused by prior dry cleaning operations that used machinery designed to allowed chemical-tainted water to drain into the sewer.
Islands Extremes, Inc. v. Industrial Zinc Plating Corp., et al.
Islander Extremes, Inc., as successor in ownership of a parcel previously owned by Industrial Zinc Plating Corporation, filed suit under CERCLA for subsurface soil and groundwater contamination. Because of a long history of industrial operations at and around the site in the City of Signal Hill, numerous PRPs and various contaminants were involved. Prevailed with a summary judgment and obtained a default judgment against plaintiff.
San Pedro Boat Works, Inc. v. Water Quality Insurance Syndicate, et al.
Bankruptcy Trustee filed suit for bad faith and declaratory relief against certain marine insurers for defense and indemnity obligations. Served as Special Counsel to the Trustee for environmental and insurance expertise.
City of Los Angeles v. San Pedro Boat Works Inc.
San Pedro Boat Works, Inc. operated a marine ship repair and maintenance facility in San Pedro in the Port of Los Angeles for more than 70 years. The business was run by various owners and operators, who used different material and techniques over the years. Los Angeles filed this CERCA action seeking damages, injunctive relief and the recovery of costs incurred in connection with the alleged release of hazardous substances.