Michel & Associates is a full-service boutique law firm specializing in adversarial proceedings and civil and criminal litigation of all types.  Among its other practice areas, our firm has an extensive environmental-law practice.  Michel & Associates is highly qualified in the Rev 973 vs. Mouren-Laurens case ("Rev 973 Case"), having represented three of the Mouren-Laurens defendants from the formation of our firm in 2009, until recently settling out the Mouren-Laurens defendants.  Moreover, a number of attorneys at Michel & Associates also represented the Mouren-Laurens defendants while working for Trutanich-Michel, LLP, the predecessor law firm to Michel & Associates.  That representation nearly dates back to the inception of the Rev 973 Case in 1998.
During the time that Michel & Associates represented the Mouren-Laurens defendants, our attorneys gained extensive knowledge, not only of the facts and the law, but of the complex internal case rules and procedures that are particular to the Rev 973 Case.  Moreover, Michel & Associates is the only entity in possession of the complete database consisting of Leach Oil Company documents, which were obtained from the site and provide the basis for Rev 973's notifications of Potentially Responsible Parties ("PRPs") in this matter.  Michel & Associates attorneys do not need to come up to speed on the Rev 973 Case – they have seventeen years of experience.  Our firm is therefore uniquely positioned through its institutional knowledge of the Rev 973 Case to provide you representation in a competent and cost-effective manner.
If you presently do not have an attorney and are interested in retaining Michel & Associates for representation in the Rev 973 Case, or if you are an attorney and would like to refer a client to our firm, please contact us at prpinfo@MichelLawyers.com and we will contact you.  In your response, please provide the named party, your name and contact information.
This information is provided to PRPs to help them understand their situation in the Rev 973 Case. It should not be considered legal advice. PRPs are advised to consult with an attorney. This document is for informational purposes only, and nothing on this website creates an attorney client relationship.  The information on this website is not legal advice, and is not to be relied on as such.
Potentially Responsible Parties (PRPs)
The attorney for Rev 973, LLC ("Rev 973") has identified over 28,000 PRPs.  Rev 973 has served PRPs with a copy of the operative complaint in the Rev 973 Case pending in federal court in the Central District of California.
Rev 973 decided to notice PRPs on the basis of over 470,000 documents that were discovered at the Leach Oil Company site ("LOC Site"), one of the original defendants in the Rev 973 Case.  Those documents identify tens of thousands of PRPs who transported, or arranged for transportation of hazardous substances (mostly waste oil) to the LOC Site. Rev 973 contends that these PRPs are liable for the cleanup costs at the LOC Site and at the adjacent Mouren-Laurens Oil Company location, regardless of whether they were negligent in the arrangement and transportation of hazardous waste to the LOC Site.
CERCLA provides for strict liability of PRPs. Company owners and managers who exercised management and control over the arrangement or transportation of the contaminants may have individual liability and may not be shielded from liability by the corporate entity. Successors in interest may be liable for the actions of their predecessors.
PRPs should consult an attorney who has experience in environmental law and litigation in federal court to seek advice.  The specific requirements for PRPs who have been served with a complaint in this matter are contained in the packet of information they received from Rev 973 along with the complaint.  Additionally, a separate document called PRP Litigation Order No. 1 ("PRPLO-1") is expected to be approved by the Court shortly.  PRPs are under tight deadlines pursuant to PRPLO-1.  The most pressing deadline provides that any PRP who has been served by Rev 973 as of March 14, 2015 and does not file and serve the required PRP Appearance Notice by May 3, 2015 will be subject to default.
Case Overview
The plaintiff in this case seeks to recover costs for the cleanup of contamination at two adjacent sites: the Leach Oil Company Site located at 625 E. Compton Blvd., and the Rev 973 Site located at 641, 705, 715 and 719 E. Compton Blvd., Los Angeles, CA 90220.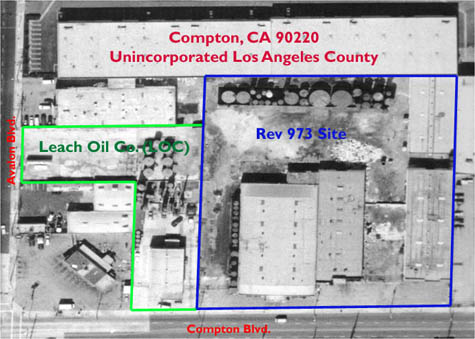 The Original Parties
LOC Parties: In 1966 George Leach purchased the Leach Site. His company, Leach Oil Co., Inc. (LOC), ran a used-oil processing business on that site until 1998. LOC accepted waste oil – used motor oil contaminated with hazardous substances – and processed it into saleable motor oil. The process generated hazardous byproducts, which were released and contaminated the soil and groundwater on the LOC and Rev 973 Sites.
MLOC Parties: In 1955, Joseph Mouren-Laurens purchased the Rev 973 Site, and commenced operations of the Mouren-Laurens Oil Company ("MLOC") at that site. MLOC, which became the largest independent packager and distributor of motor oil in the U.S., blended and packaged new oil and related products. It did not process or refine oil. MLOC operated upon the site until 1999, when it was evicted by Rev 973.
Rev 973: In 1984, John and Mireille Mouren-Laurens owned the Rev 973 Site and secured a promissory note to Gibraltar Savings Bank with a deed of trust on the Rev 973 Site. After John and Mireille Mouren-Laurens defaulted on the note and Gibraltar failed, the FDIC took over Gibraltar as receiver and auctioned off packages of non-performing loans. Rev 973 acquired Gibraltar's interest in the Mouren-Laurens note and deed of trust and, in February 1998, foreclosed on the Rev 973 Site. Rev 973 is the current owner. Later in 1998 Rev 973 brought this lawsuit.
The Lawsuit
Rev 973′s lawsuit brought 26 claims against the LOC and MLOC parties under federal and state law, seeking money damages and injunctive relief for the contamination of the Rev 973 Site. The LOC parties counter-sued; seeking money damages and injunctive relief from Rev 973 and from the MLOC parties for contamination of the LOC Site. The MLOC parties also counter-sued, seeking money damages and injunctive relief from Rev 973 and the LOC parties.  Rev 973 has now amended its complaint to bring PRPs into the litigation.  We expect that as many as one-thousand PRPs may eventually appear in the case.  As with the original parties, Rev 973 seeks money damages against the PRPs to offset its expected costs to clean up the MLOC site and/or the LOC site.
Some of the claims in the lawsuit are based on:
CERCLA      (federal Comprehensive Environmental Response, Compensation and Liability      Act, 42 U.S.C. §§ 9601-9675): The purpose of this federal environmental      law is to make responsible parties pay for the costs of cleanup of the      site contamination. Liability is strict, joint and several, and is based      on status. Liability is also retroactive, so it can result from acts that      occurred even before the statute was enacted. The LOC Site is a "facility"      from which "hazardous substances" were "released." Hazardous substances include      contaminated waste oil, waste antifreeze, and many other contaminants that      were shipped to the LOC Site. Under § 9607, anyone who arranged for      disposal or for transport for disposal of a hazardous substance to the LOC      Site is liable as an "arranger." Anyone who accepted a hazardous substance      for transport to the LOC Site is liable as a "transporter." Such arrangers      and transporters are known, in CERCLA jargon, as "potentially responsible      parties," or PRPs. Each PRP may be liable for the entire site cleanup      cost.
RCRA      (federal Resource Conservation and Recovery Act, 42 U.S.C. §§ 6901-6992k):      This federal statute mandates a "cradle to grave" regime for regulating      hazardous waste. It also contains a citizen-suit provision allowing suit      against anyone who "contributed to" the handling, storage, transportation      or disposal of any solid or hazardous waste which may present an imminent      and substantial endangerment to health or the environment. Because the      soil and groundwater contamination on the LOC and Rev 973 Sites may present      this type of endangerment, businesses who generated waste that was      transported to LOC Site or who transported the waste there can be liable      under RCRA. The court can issue an injunction ordering such generators or      transporters, or any one of them, to clean up the sites at their expense.
HSAA      (California Hazardous Substance Account Act, Cal. Health & Safety Code      §§ 25300-25395): HSAA is the California state analog of CERCLA, very      similar to that federal law, except that the HSAA does not create      liability for any acts committed before 1982.
Insurance Coverage
Certain types of policies, if in effect at the time when a PRP sent hazardous substances to LOC, may cover that PRP's liability in this lawsuit. A PRP should try to locate any policies that were in effect during the years in question and then consult with an attorney and its insurance company to tender a claim.  If a PRP does not have copies of any insurance policies that it thinks may have been in place, our office may be able to help it locate evidence of those policies if that PRP should decide to retain us.
More Information on the Rev 973 Case
The website Rev973vsMLOC.com, maintained by Michel & Associates, contains a great deal more information on the case, including operative pleadings, test results, case management orders, etc.