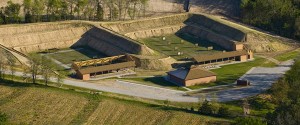 Shooting Ranges are an extensive part of our Land Use practice.
Michel & Associates, P.C.'s land use law practice group addresses the complicated legal interrelationship between real property rights and land usage restrictions. Conflicts between these interests routinely arise from real estate development and use in California, particularly along its coastline. Michel & Associates, P.C. offers complete services to its land use clientele, allowing us to tailor our representation to each client's needs, budget, and goals.
Our land use clients include municipalities, landowners, real estate developers, natural resource management advocacy groups, and others affected by land use issues. We represent our clients before planning commissions, city councils, county boards, the California Coastal Commission, and before other local, state and federal administrative, legislative and judicial authorities.
Land use disputes are as varied as the plots of land from which they spring. Michel & Associates, P.C. develops specific strategies for each client and each property. Land use projects often involve many discrete but interrelated elements, including administrative proceedings, negotiation, coalition building, geological and environmental investigation, permitting, compliance advice, legislative lobbying, public relations, civil planning and increasingly, litigation. Michel & Associates, P.C.'s attorneys help our clients coordinate these elements to their advantage.
Michel & Associates, P.C.'s role in land use matters is frequently preemptive, avoiding costly and time-consuming litigation if possible. To that end, Michel & Associates, P.C.'s land use law practice group assists clients to obtain conditional use, coastal development, and other permits. And we help our clients negotiate and obtain general plan amendments, zoning changes, approval of tract maps, development agreements, and other specific plans.
Early resolution of land use issues often turns on discretionary decision-making by regulators.  Michel & Associates, P.C.'s expertise and our professional relationships and experience with government regulators works to our clients' advantage.
When litigation is called for, Michel & Associates, P.C's land use law practice group includes practitioners experienced in various aspects of land use law litigation, including declaratory relief actions, contribution and cost-recovery suits regarding environmental damage to real property, takings claims, condemnation actions, writs of mandate, and defense against allegations of regulatory violations.
Land use legal challenges often involve state and federal environmental laws.  Because of our environmental law experience, Michel & Associates, P.C. is uniquely positioned to advise clients on both the land use and environmental aspects of a case, creating a synergy that is both substantively important and financially beneficial.
Michel & Associates, P.C. is prepared to resolve any land use issues our clients may have, and we tenaciously strive to achieve each client's goals despite the procedural and political hurdles that may arise.
Access Land Use Law Reference Materials
Subscribe to Land Use Law News and Alerts
Submit a Free Case Evaluation Request